Certified Repair Service for Accessible Equipment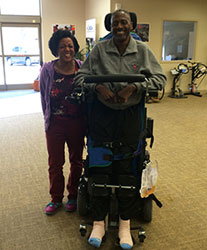 Stalls Medical incorporates a full-service department at each location with dedicated service managers and qualified factory trained technicians. Stalls Medical is a U.S. Rehab certified repair center. Sales are important but Service is paramount- we have a desire to take care of the equipment we had a part in providing. We make a commitment to good service and can offer on-site as well as in-home repairs. Stalls Medical works closely with manufacturers regarding warranty repairs as well as repairs not covered by warranty. Whether a minor adjustment or a major repair, our experienced technical staff will be happy to help you.
Typically a prescription is obtained for a repair or service need from a physician
The service department is contacted and an appointment is scheduled for a technician to diagnose the problem and equipment.
The technician relays the problem and solution to the service department which prepares corresponding paperwork for physician signatures based on parts and equipment needed.
Once we receive authorization parts are ordered and final repair is scheduled.