Accessible Solutions for Your Lifestyle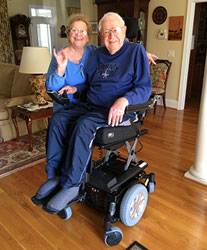 When Stalls Medical is contacted regarding an individual who may need accessible home modifications the process usually involves the following:
Our primarily goal is to help our clients stay in their homes safely.
We take a problem-solving approach to find the most appropriate equipment for your needs.
We work with recycled and new equipment to develop good solutions.
Assistance in exploring available funding available options is a service we provide.
"What do you want to accomplish?" is a good start to our conversations about home modifications. Our approach is consultative.
We work with the best vendors to meet the specific needs of our clients. All installations are performed and serviced by Stalls Medical factory trained technicians.
We help our clients stay in their homes safely.
Accessible Home Modifications Offered
Stairlifts
Straight, curved and outdoor models.
Vertical Platform Lifts
A variety of heights and configurations.
Patient Transfer Systems
Floor lifts, ceiling mounted lifts and portable lifts.
Automatic Door Openers
Aluminum Ramps
Threshold ramps, portable ramps, modular ramps and suitcase ramps.
Home Modifications Gallery
(Click Images to Expand)